Kono Food Alley
Now through October, come and enjoy good food and good vibes for lunch at the KONO Food Alley, featuring local food trucks and carts from around the Bay Area. No entry or admission fee required. See you there!
When: August 5, 2019 - October 25, 2019
hours: open for lunch (11am-2pm)
Where: 3188 Telegraph AVe, Oakland, CA 94609 (at Hawthorne, adjacent to the Peralta pavilion and the peralta medical office building)
Kono Food Alley opens in Oakland, with a new food hall on the way
Most of Oakland's Telegraph Ave. booms with restaurants, but the stretch north of Uptown and south of Temescal is relatively sparse — a particular frustration for the many healthcare workers in the neighborhood.
KONO Food Alley Brings New Lunchtime Options to the Neighborhood
This Monday, a wealth of new lunchtime options arived in the Koreatown-Northgate, or KONO, neighborhood with the KONO Food Alley. The KONO Food Alley is a collection of food stands and food trucks that appear at the outdoor space in front of 3188 Telegraph …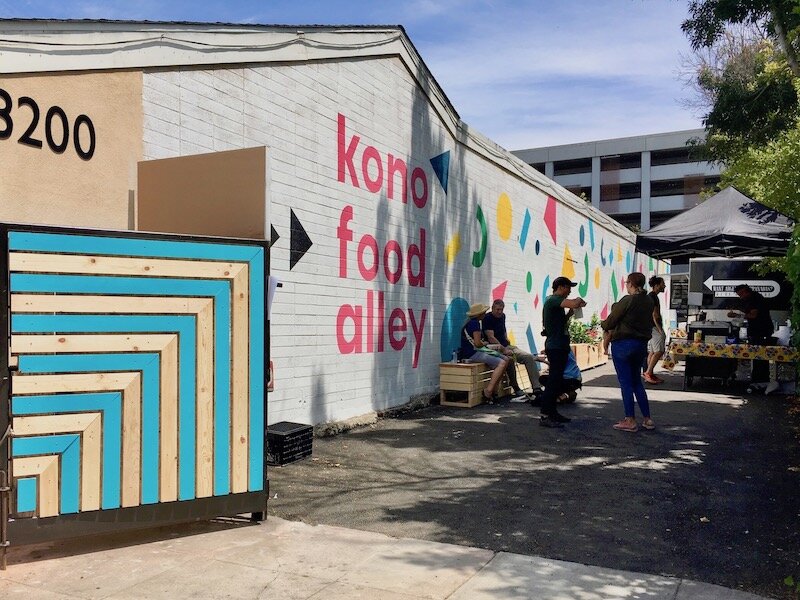 Bites: Kono Food Alley; Cheese Board summer break; Southside Station
ALLEY-HO! A new summertime lunch spot launched Monday in Oakland's KoNo District. Kono Food Alley brings together a handful of Bay Area food truck and food cart vendors hawking a diversity of eats […] in an unused alleyway between a radiology business and Samuel Merritt University.
New Pill Hill food truck Kono Food Alley opens its doors
Kono Food Alley is an outdoor food-court hotspot for food trucks and food vendors, with menu items ranging from Argentine cuisine to tacos to coffee. According to the business' Facebook page, "We're excited to announce the inaugural season of our Summer Food Truck Stop. It's always been our dream to bring exciting new food vendors to Kono District in Oakland."
join alley the lineup
Are you interested in bringing your food or drink to Kono Food Alley?
Fill out our simple application and we'll get back to you on scheduling a visit!
see the latest on what's happening at the alley: